Malaysia is the home of several ethnic groups found its roots in the colonial period in which hundreds and thousands of immigrants who come here to find an honest living in the country prosperous. The majority of Chinese immigrants who worked in tin mines and the Indians placed along the rubber plantations brought with them their culture do not forget the rich culinary heritage. Culture to go along well with their cooking where unusual traditional gathering usual accompanied with a different mouth watering cuisine, which become Malaysian food recipes.
Over time that cooking somehow assimilated with the local customs Malaysia as delivery of the more diverse and distinct from the cooking is not found anywhere else in the world, such as the infamous 'Roti Canai', a type of bread is like no other bread made from yeast and has a distinct oily texture, thanks to the way the dough-throwing acrobatics around during the process of doing so. Other types of foods Malaysia which has its origins in India is fine 'mee Mamak' and 'Rojak Mamak'. Word mamak means uncle in Tamil, so that the Muslim community of India known as the local mamak.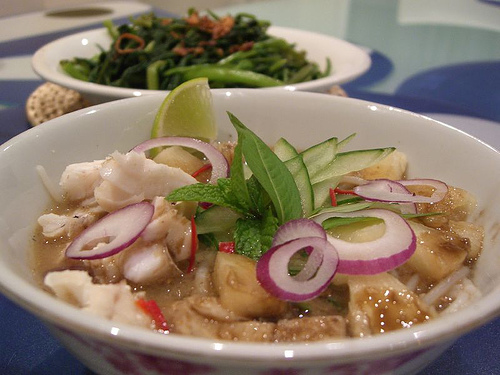 "Mee Mamak"' is different from other noodles have a thick spicy flavor that will make you feel warm with a slurp, while the "Rojak Mamak" form of salad with a sauce made from finely ground must be satisfied most vegetarian chili. The curry is served in restaurants 'mamak' India definitely different but it has not been found in India. Above all a fun dish to eat with tea 'field' with milk that is difficult to make, literally, we need to pour the tea between two big glasses or mugs and height increase with attractive glass pour or mug higher and higher to achieve a distinctive foamy rich flavor and also to relax. All Malaysian Indian dishes not found in India alone just because the original recipe is Malaysianize, while using locally available materials are much cheaper and tastier.
The same can be said in the Malaysian Chinese food such as 'Yong taufu' and 'Su'un, Chinese immigrants could not find the ingredients for the recipe originally from China, so they decided to replace it with a cheaper alternative source is found in Malaysia such as' keluak the fruit 'and' wood sugar. Other local culinary pride of Malaysia who come from other countries such as the  popular "laksa" located almost anywhere in Malaysia and even has a "laksa Johor" own version of sub, "laksa Kedah" and "laksa Penang". "Laksa" are thick noodles. The"laksa"  served with fish soup and  sauce made from mackerel and sardines and lots of spices and the fish are not at all because the herbal aroma. This is a favorite among tourists for not too hot and spicy flavor.
Other Malaysian gourmets particularly the rice is the staple food on which Malaysia can be traced to neighboring countries such as Indonesia and Thailand as 'Soto' and 'nasi kerabu" Johor and Kelantan respectively. They cook with the influence of border communities centuries ago as the machete when people start to interact and exchange goods together, especially in the border market town.
The arrival of Chinese and Indian migrants certainly increase the culinary scenes without them Malaysian cooking and  recipes food would not be so colorful and beautiful as it is now.  Today, Malaysia foods is a major attraction for tourists just as KLCC and KL Tower. When they said that Malaysia offers a rich cultural melting pot, the tourists have to mean a lot of Malaysia foods boiler for selection.