Even today, people still buy silver items such as brooches, rings and "Keris" sheaths, even though silversmith industry in Kelantan is no longer as popular as compared to a few decades ago.
Malay silverware known for intricate designs. Kelantan is well known in silversmith, where Malay craftsmen working in silver from ingots and bars.
Despite technological advances, there are still many people who choose traditional items made of silver.
However, the traditional silversmiths is dying. There are now very few traditional silversmiths in the society.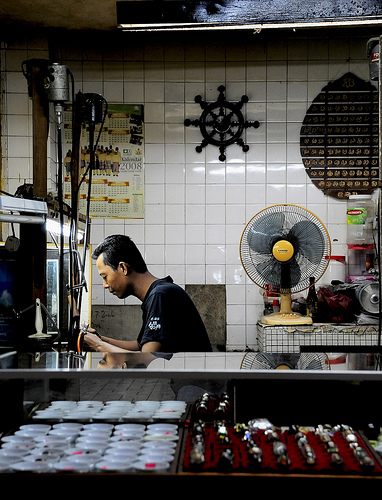 Kelantan Handmade Silver Items
Despite the increase in gold and silversmith shops using new technology, consumers still prefer the goods produced in the traditional way.
"The designs are intricate and beautifully made in a traditional way making it very fine and unique.
Although there is competition from other precious metals, silver items like handle and sheath of keris continues to have market demand.
Silver handmade pieces were popular between 1970 to 1990 especially brooches matching Kebaya dresses.
The silversmith said usually takes about two hours to make a ring with the machine.
But in the beginning, they use basic tools such as hammer and chisel that took longer time.
Orders normally came not only from Kelantan, but also from Brunei, especially from those who want the decorations for their keris.
It usually take about a month to make a head or sheath of keris and charged RM1,500 and RM3,000, while for a ring it would cost between RM70 and RM550, depending on size and design.
For some silversmith they are fortunate enough to received orders from the palace such as to make medals and other regalia.
Inheriting the Silversmith Skill
Most of the silversmith also inherited their silversmithing skills from older generations, and some further their study by taking a diploma course at the National Craft Institute.
Kelantan Malaysian Handicraft Development Corporation has planned several programs to help silversmiths and prevent the industry from fading.
One of the programs is to recognize skillful master silversmiths who can teach their skills and techniques to the younger generation.