Bukit Fraser (Fraser's Hill) noted as one of the resort's most popular highlands in Peninsular Malaysia, while the other two are the Cameron Highlands and Genting Highlands.
It is a place for travelers and those who crave peace but at the same time do not want to be in overcrowded conditions. Fraser's Hill in Titiwangsa range, Pahang has also become a destination for the newly married couple on their honeymoon.
Temperature is around 17 to 24 degrees Celsius, and filled with flower gardens and beautiful scenery make it like being in a European country.
Fraser's Hill was originally a mining spot for ore and gold, and gets its name from a Scottish  named Louise James Fraser, who discovered this place in 1890.
To get to Fraser's Hill one can through the two land routes from Kuala Kubu Baru, Selangor or Raub, Pahang and travel as far as 140 miles from the Kuala Lumpur took only an hour and a half.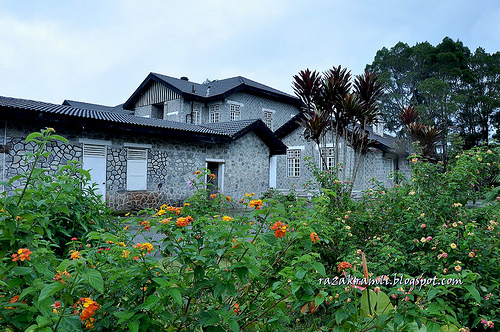 LITTLE ENGLAND
Fatigue journey meandering disappear as soon as seeing a glimpse of the old clock tower, a landmark of Fraser's Hill.
Although the clock showed 1.00 pm, the atmosphere is still cool.
No wonder why Fraser's Hill is nicknamed the 'Little England' for all buildings, including post offices, police stations and hotels built by British colonial taste.
White color can be said to be the color theme for all of the buildings here.
However there is no use of iron fence, instead replaced with shrubs as a boundary marker between buildings.
Dubbed as the remains of British cities, but there are also stating that the design of buildings in the town over to the Fraser's Hill Tudor style in rural Scotland.
To enjoy the scenery around Fraser's Hill, visitors can choose to walk or rent bikes provided by the hotel operators for RM10 per hour.
EVENING ACTIVITIES in Fraser's Hill
Undoubtedly an evening at Fraser's Hill is different from other resorts because not a lot of things to do besides relax.
However, for those who are active, Fraser's Hill promises something interesting to explore, and the author does not miss the opportunity to join in the testing capabilities across the trails around Fraser's Hill after sunset.
The program is under the supervision of Fraser Hill Development Corporation (FHDC) and according to our guides, visitors intending to engage in those activities necessary to obtain the information counter to the direction of the driver.
There are eight different routes and levels of difficulty of the most difficult route Pine Tree Trails (5,000 meters), Hemmant Trail (1,000 meters), the Bishop's Trail (1,500 meters), Mager Trail (1,000 meters), Maxwell Trail (1,800 meters) , Rompin Trail (500 meters), Kindersley Trail (750 meters) and Abu Suradi Trails (500 meters).
The irony is that only one route only given Malay name, Abu Suradi  is named after the first Malay tin operators in Bukit Fraser and according to the story, which earned the now becomes the only golf course here.
Along the way, we'll have the opportunity to see wild plants such as bananas karok, wild ginger, wild ferns and insects that only come out at night like a tarantula spiders and crickets.
BIRD WATCHING
Hill station is famous for its birdwatching as there are over 260 species of birds that allows bird watching international competitions held annually in the resort center.
During the competition, participants will walk through trails in Fraser's Hill while recording the number and species of birds are seen throughout the course of the specified time period.
Birdwatching is a tourism product and contribute 10 percent of foreign tourists coming here.
In the competition, bird enthusiasts will record the number of birds found before the exchange of views about species of birds.
They're the lucky ones can also see bird species from Japan that will stop at Fraser's Hill before proceeding to New Zealand in June.
Among the species of birds that are easily available at Fraser's Hill is "Rhinoceros Hornbill", "mountain tailorbird", "silver eared mesia", "chestnut capped thrush", "mountain imperial pigeon" and "long tailed sibia".
TOWN OF FLOWERS
FHDC are now actively encouraging about 1,000 local residents to plant flowers  in every corner of their homes to enable tourists to feel like they are abroad.
"The environment is very suitable for growing winter flowers and the weather should be as  in the Cameron Highlands are popular with the beauty of roses.
However Bukit Fraser will not be like the Cameron Highlands as the main principle is to maintain the nature and originality of the town here.